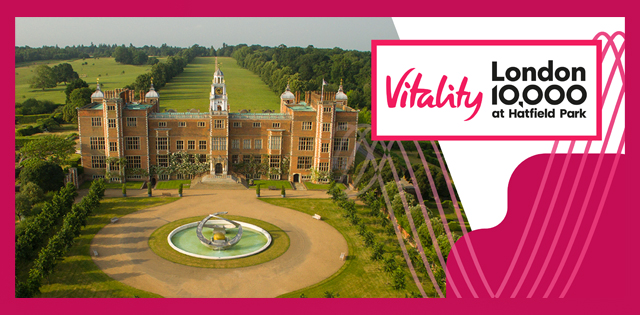 The Vitality London 10,000 at Hatfield Park: entries now open!
We are delighted to announce that the 2021 Vitality London 10,000 will now take place on Sunday 11 July, at Hatfield Park in Hertfordshire – a location that offers a fun and varied course in a beautiful parkland setting, see below for more details.
Entries are open now – so click the link below to secure your entry as places are limited!
Entry costs £39 (with a £2 discount for British Athletics registered running club members). All finishers will receive the 2021 Vitality London 10,000 souvenir medal and New Balance technical T-shirt (worth £35).
Celebrate running together again
The Vitality London 10,000 at Hatfield Park offers us all a chance to celebrate being able to do what we love again – as well giving you the opportunity to Celebrate You by running for your head and your heart in the beautiful surroundings of Hatfield Park.
If you had a place in the 2021 event, we emailed you on Wednesday 26 May to invite you to take part, so please check your inbox. You have the following three options:
Transfer your 2021 entry to the Vitality London 10,000 at Hatfield Park on 11 July
Rollover your 2021 entry to the 2022 event (date TBC)
Receive a full refund of the entry fee you paid
Charity places
If you had a charity place in the central London 2021 Vitality London 10,000, but can't take part on the rescheduled date, you must speak directly with the charity to discuss your options as the place belongs to them.
We have contacted charities to provide them with details of how they can register you for the rescheduled event.
Space to feel safe and comfortable
We understand many people haven't taken part in a mass event for a while and may be feeling a little apprehensive (as well as excited!) about getting out there again – which is why we're offering participants a choice of two races: one with a socially distanced start and one without.
At the non-socially distanced race at 09:00, there will be a mass start with no social distancing measures in place – just as it used to be pre-pandemic.
At the socially distanced race at 10:45, runners will start in pairs at two-second intervals, which will create more space throughout the race route.
Please note that the Vitality London 10,000 at Hatfield Park is fully compliant with UK Athletics' recently published guidelines for running events during Covid-19 restrictions.
Find out more
For further details about what we have planned for the event, please visit our Runner Info page and take a look at our FAQS.