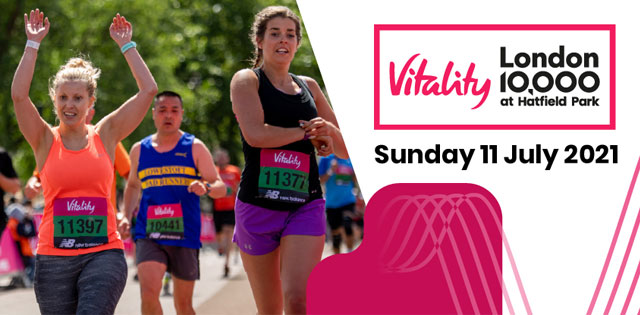 The Vitality London 10,000 at Hatfield Park
The 2021 Vitality London 10,000 took place on Sunday 11 July, at Hatfield Park in Hertfordshire on a fun and varied course in a beautiful parkland setting.
Running together safely!
We're delighted to have delivered a safe, secure event under the government's guidance for Safe Sport under stage 3, and hoped you enjoyed it as much as we did!
Thank you to everyone who took part and made it such a great day – we're delighted to be bringing back outdoor running events!
Please check out our results page to see how you got on.
Plan your next challenge!
If running with us at Hatfield Park has left you contemplating another challenge, take a look at our other events that we're holding this summer and beyond.
You might be particularly interested in The Vitality Big Half half marathon, which takes place in central London on Sunday 22 August, or if you'd rather run another 10K but this time with a friend, the Lucozade Sport Virtual 10K on September 12 could be for you.
And, of course, there's still a chance of taking part in the big one: the Virgin Money London Marathon on Sunday 3 October – we have lists of charities with places in both the mass and virtual events that are looking for runners just like you to support them!
Places in the central London event
We have contacted everyone who had a place in the central London event, which was set to take place in May, to ask what they would like to do with their entry.
If you have not yet informed us of your choice, please refer to one of the emails we have sent you and let us know if you would prefer to either:
Rollover your 2021 entry to the 2022 event (date TBC)
Receive a full refund of the entry fee you paid
Charity places
If you had a charity place in the central London 2021 Vitality London 10,000, but couldn't take part on the rescheduled date, you must speak directly with the charity to discuss your options as the place belongs to them.
The 2022 Vitality London 10,000
The Vitality London 10,000 will be back at its central London location in 2022 – please check back for details later in the year.